| | |
| --- | --- |
| | |
| | |




This memorial website was created in memory of our precious little boy, Connor James Anderjaska. Connor was born on September 26, 2004 and received his angel wings on September 2, 2005 at the age of 11 months and 7 days.




Connor was a triplet and was born on September 26, 2004 at 25 1/2 weeks gestation to Todd & Tracy Anderjaska. Connor James was born at 12:24 p.m. followed by his sister, Shyann Eileen at 12:25 p.m. and his brother, Caden Thomas at 12:26 p.m. via emergency C-section.

On September 1, we took Connor to his pediatrician. Connor dr. hospitalized him for pneumonia (as he had done 3 times prior) and began IV antibiotics. On the morning of September 2, Connor's pediatrician called and stated that he had ordered some additional testing for Connor. Our 3 year old daughter, Shaylee and I arrived at the hospital shortly afterwards and found that Connor was not in his hospital room. Shaylee began to cry, saying, "I dont want Connor to go to heaven, Mommy." Unknowingly, I assured Shaylee that Connor was not in heaven, but instead that he was having some tests ran in another area of the hospital.
Within a few minutes, Connor and his nurse returned to his room. I will never forget how happy Shaylee was to see her little brother. She got right in the hospital crib with him and nearly smothered him with hugs and kisses. She sang "You are My Sunshine", as well as some other lullabies while holding her little brother's hand.
Prior to leaving, Shaylee and I both told Connor that we loved him and that we would see him later that afternoon. We then left to pick up some lunch for Todd, as it was his birthday. Little did we know, this was the last time Shaylee or I would our precious little boy alive.

When we got home, we received a call from Connor's pediatrician stating that he felt it necessary to transport Connor to Children's Hospital in Omaha for treatment. He arranged for ambulance transport to Omaha and said that my husband or I could ride along with Connor. Todd decided to make the trip so that I could stay back with our other 3 children and arrange for a sitter. Todd arrived at the hospital and within 10 minutes of his arrival, Connor began coding. They resuscitated him for 24 minutes and were unable to regain a heart rate. Connor passed away at 2:12 p.m. The official cause of death was heart failure, due in part to complications of pneumonia and prematurity.


Connor was a beautiful little boy with amazing strength. He was a courageous fighter who overcame so many obstacles in his short time on earth. He touched the hearts of those who knew him and even the hearts of many complete strangers. Connor taught us so much about life, unconditional love and patience. He taught us more in his 11 months and 7 days on earth than we could have ever taught him in an entire lifetime.

We are better people and better parents for having had Connor in our lives. We are so grateful for the time that we had to hold and to love our Special Little Angel. Connor is missed dearly and he will live in the hearts of those who knew him.... forever.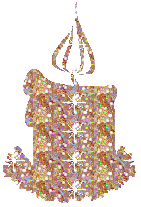 While visiting Connor's site, please
light a candle in
memory of our precious little Angel.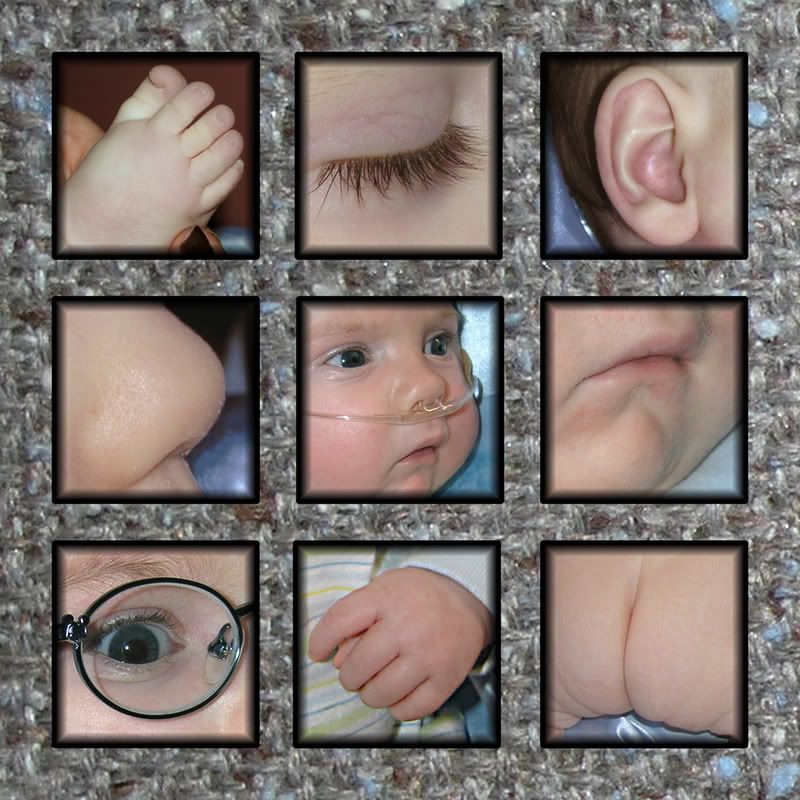 September 26, 2004 - September 2, 2005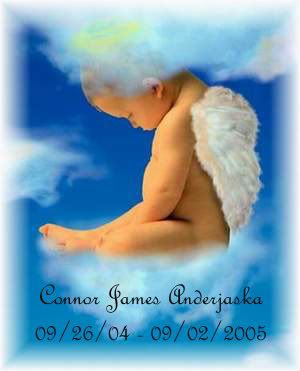 A Special Angel

There is a special Angel in Heaven
that is a part of me.
It is not where I wanted him
but where God wanted him to be.
He was here but just a moment
like a night time shooting star.
And though he is in Heaven
he isn't very far.
He touched the heart of many
like only an Angel can do.
I would've held him every minute
if the end I only knew.
So I send this special message
to the Heaven up above.
Please take care of my Angel
and send him all our love.

Author Unknown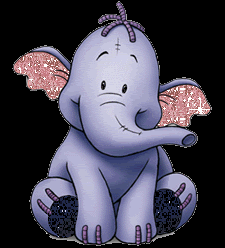 Amazing Angels…
Sometimes God gives us a little glimpse of heaven
Just a peek, He doesn't want to give all His secrets away
Enough to keep us believing
And reassure us of the heavenly rewards to come
There are rainbows and butterflies
And dew on the early morning grass
Sunrises and sunsets, the moon and stars and sun
All the goodness and grace comes only from His hand
And sometimes He lends Earth an angel
To keep for just a little while
To show us the beauty of creation
In the twinkle of a baby's eye
And the strength of faith
And joy beyond what words can describe
These angels are our teachers
Teaching us about unconditional strength and love
These angels are our mentors
Guiding us through difficult times or giving us a nudge
These angels act as our protectors
Keeping us safe at heart
These angels are our ministers
Showing us the glories of God's eternal love
These amazing angels show up at unexpected times
With an undetectable disguise
They pass along their message with humility and pride
And return to God's right hand
Before we have a chance to understand
That an angel was in our midst
And touched our lives forever with footprints in the sand
These angels come to do God's bidding
Then we must somehow say goodbye
As difficult as that may be
How worse would life be to have never known
Never touched or held, loved and lost
This amazing angel in disguise
Using what they have taught us
We learn to let them go
Back to God and heaven
To always be with us from above

In Memory of Connor James Anderjaska
Written by Jenni Greazel/September, 2005



Bereaved Parent's Wish List

I wish my child hadn't died. I wish I had him back.


I wish you wouldn't be afraid to speak my child's name. My child lived and was very important to me. I need to hear that he was important to you also.


If I cry and get emotional when you talk about my child I wish you knew that it isn't because you have hurt me. My child's death is the cause of my tears.


You have talked about my child, and you have allowed me to share my grief. I thank you for both.


Being a bereaved parent is not contagious, so I wish you wouldn't shy away from me. I need you now more than ever.


I need diversions, so I do want to hear about you; but, I also want you to hear about me.


I might be sad and I might cry, but I wish you would let me talk about my child, my favorite topic of the day.


I know you think of and pray for me often. I also know that my child's death pains you, too. I wish you would let me know those things through a phone call, a card, note, or a real big hug.


I wish you wouldn't expect my grief to be over in a short period of time. I wish you could understand that my grief will never be over. I will suffer the death of my child until the day I die. Grief is a life long process.


I am working very hard in my recovery, but I wish you could understand that I will never fully recover. I will always miss my child, and I will always grieve that he is dead.


I wish you wouldn't expect me "not to think about it" or to "be happy".
Neither will happen for a very long time, so don't frustrate yourself.


I don't want to have a "pity party", but I do wish you would let me grieve. I must hurt before I can heal.


I wish you understood how my life has shattered. I know it is miserable for you to be around me when I'm feeling miserable. Please be as patient with me as I am with you.


When I say "I'm doing okay", I wish you could understand that I don't "feel" okay and that I struggle daily.


I wish you knew that all of the grief reactions I'm having are very normal.
Depression, anger, hopelessness and overwhelming sadness are all to be expected. So please excuse me when I'm quiet and withdrawn or irritable and cranky.


Your advice to "take one day at a time" is excellent advice. However, a day is too much and too fast for me right now. I wish you could understand that I'm doing good to handle an hour at a time.


Please excuse me if I seem rude, certainly not my intent. Sometimes the world around me goes too fast and I need to get off. When I walk away, I wish you would let me find a quiet place to spend time alone.


I wish you understood that grief changes people. When my child died, a big part of me died with him. I am not the same person I was before my child died, and I will never be that person again.


I wish very much that you could understand understand my loss and grief, my silence and my tears, my void and my pain. BUT...I pray daily that you will never HAVE to understand.




You are my sunshine
My only sunshine.
You make me happy
When skies are grey.
You'll never know, dear,
How much I love you.
So, please don't take my sunshine away

The other night, dear,
While I lay sleeping
I dreamed I held you in my arms.
When I awoke, dear,
I was mistaken
So I hung my head and cried.






Some people only dream of angels,
We held one in our arms.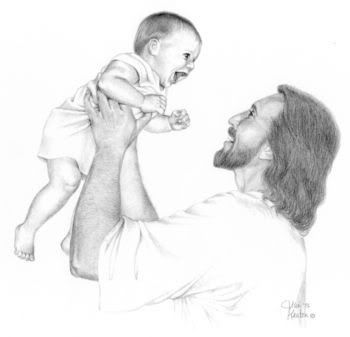 Daddy please don't look so sad,
Mommy please don't cry.

Cause I am in the arms of Jesus
and he sings me lullabies.

Please try not to question God,
Don't think he is unkind.

Don't think he sent me to you,
and then he changed his mind.

You see, I am a special child,
and I am needed up above.

I am the special gift you gave him,
the product of your love.

I'll always be there with you,
so watch the sky at night.

Find the brightest star that gleaming,
that's my halos brilliant light.

You'll see me in the morning frost,
that mists your window pane.

That's me in the summer showers,
I'll be dancing in the rain.

When you feel a gentle breeze from the wind that blows
that's me- I'll be there,
a kiss on your nose.

When you see a child playing and your heart feels a little tug.
That's when I'll be there, giving your heart a hug.

So, Daddy Please don't look so sad, Mommy don't you cry.
I am in the arms of Jesus, and he sing me lullabies.

~Unknown~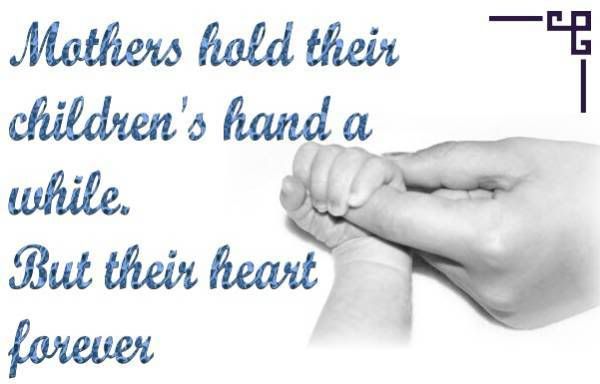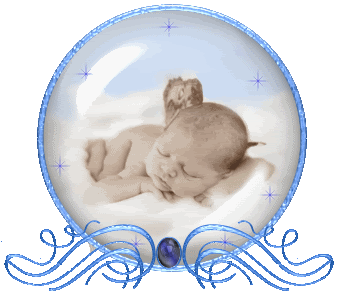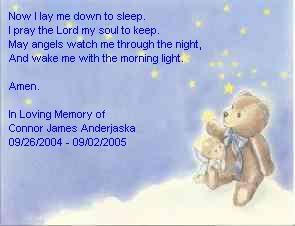 http://www.ispokewithmychild.com/